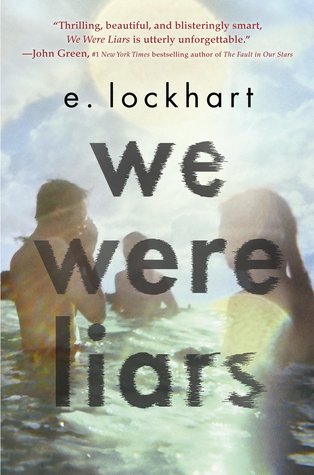 Book Summary:
A beautiful and distinguished family.
A private island.
A brilliant, damaged girl; a passionate, political boy.
A group of four friends—the Liars—whose friendship turns destructive.
A revolution. An accident. A secret.
Lies upon lies.
True love.
The truth.
We Were Liars
is a modern, sophisticated suspense novel from National Book Award finalist and Printz Award honoree E. Lockhart.
Read it.
And if anyone asks you how it ends, just LIE.
Flo's Review
Yup. THAT is the book summary. It got a lot of pre-publication hype and again -- look at that summary! I knew I had to read it. I loved this book! For one thing, t
he writing is unique and beautiful ("He is...ambition and strong coffee." I love that description of Gat! I want to meet someone intense like him just so I can describe that person that way.)
The story
struck a perfect balance between keeping you questioning and moving the plot forward. It gave you enough of a story line and enough about the characters that you were invested -- you felt you knew the Sinclairs and enjoyed reading about their summer experiences. But, at the same time, you knew -- as Cady knew -- that there was more that you didn't know. And so I wanted to keep reading to find out the
more
. Throughout the story, at good intervals, information is dropped in tidbits that makes you realize...whoa. Maybe you
don't
know the Sinclairs like you thought you did. I was thoroughly impressed because I knew going into the story that there would be a big twist -- that's all you see when you read the reviews. But I had no idea what the twist could be. And throughout the story I was reading, knowing that something was going to happen. But I had NO IDEA what it could be. And then when I got to it? I was FLOORED. I had NO IDEA. I finished this a couple of days ago and am still in book hangover mode. (The only thing I didn't get is why they're called the Liars? Did E. mention that? Or did I miss it?) Anyway, I definitely recommend this one.
This is one of the books that I picked up at BEA a few months ago. I was fortunate to receive a copy because they were out of tickets and the line was really long. Flo was in line, but wanted to get another book...so she gave me her ticket!!! Squeeee!!!!
We Were Liars has a very Kennedy feel to it. The Sinclair family is extremely wealthy and owns an island a few miles from Martha's Vineyard. Tipper and Harris Sinclair live in the largest house on the island and built three additional houses for their three daughters. Each summer their children and grandchildren spend the entire summer relaxing and playing on the island. Their three daughters are very materialistic and spend a lot of time fighting over who will inherit the houses, money, art...all the way down to the tablecloths.
Three of the grandchildren (Johnny, Mirren, and Cadence) are close in age and develop a strong friendship, but they only interact with one another during the summers. Mirren's mother is divorced and brings her new boyfriend and one of his nephews, Gat, for the summer. He is the same age as the three cousins and becomes the fourth member of The Liars. He returns each summer and is essentially part of the family. During their fifteenth summer on the island, Cadence was involved in an accident. She can't remember what happened and has terrible migraines as a result. The doctors advised her mother to let Cadence remember the events on her own, so nobody in the family will tell her what happened.
The majority of the book takes place two years after the accident...summer seventeen. Cadence returns to the island for the first time since the accident and begins to remember small details. I was absolutely shocked when Cadence eventually pieces everything together. Until the last thirty pages I NEVER would have suspected the ending. In retrospect, there were clues throughout the book, but they were very subtle. I was so emotionally involved and connected with the characters that the ending brought me to tears.
This is the first book written by E. Lockhart that I have read and it was well worth the wait in line at BEA. I gave it five out of five stars on Goodreads and would highly recommend it. If you have read any of her other books, we would love to hear your thoughts.