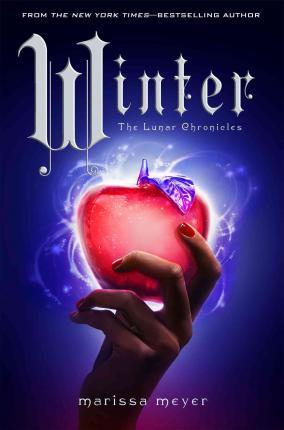 Book Summary
Princess Winter is admired by the Lunar people for her grace and kindness, and despite the scars that mar her face, her beauty is said to be even more breathtaking than that of her stepmother, Queen Levana.
Winter despises her stepmother, and knows Levana won't approve of her feelings for her childhood friend—the handsome palace guard, Jacin. But Winter isn't as weak as Levana believes her to be and she's been undermining her stepmother's wishes for years. Together with the cyborg mechanic, Cinder, and her allies, Winter might even have the power to launch a revolution and win a war that's been raging for far too long.
Can Cinder, Scarlet, Cress, and Winter defeat Levana and find their happily ever afters?
Flo's Review
I've found my audiobook length limit. Apparently it's 23 hours. I'd listened to the rest of the Lunar Chronicles books on audio -- I adore Rebecca Soler, who has an amazing range of voices and really brought these characters alive for me. When I heard of the length of this installment, I cowboyed up and starting listening. But I just couldn't do it, guys. On average, it takes me about 2 weeks to get through an 8 hour audiobook. This is 23 hours. You can imagine. I was enjoying hearing the story, but it was also starting to feel like there was no end in sight. So a little more than halfway through, I switched to the 824 page book.
Since they are based on fairy tales, I feel it's not a spoiler to say I was quite happy about the happy ending! This installment came together so nicely and really left all of our young heroes in a good place. Even though the book was really long, there was never a lag in the action. I never had a point where I was ready to put it down. I always wanted to continue reading so I could know what happened next. (Though there was a scene in the middle that left me quite disheartened.) The resourcefulness and courage of all of these characters was always fun to read, and I admire them all for everything they were able to accomplish.
The connectedness of this entire series never ceased to blow me away. Things that were mentioned in passing in an earlier novel would come to play in a little one. Like, small details. They'd come back and be highly relevant. And, on top of that, they would fit perfectly with the fairy tale! The Lunar Chronicles are clever, well-written, and fun. I've really enjoyed reading this series and see why it comes so highly recommended.