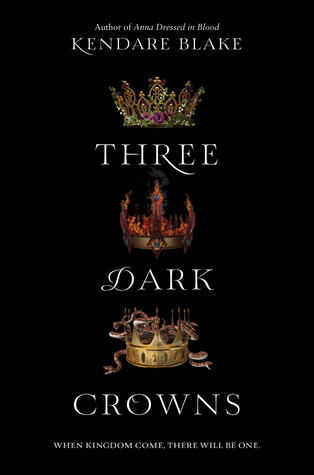 Three Dark Crowns was one of the books I was really excited to receive at BEA last year. I did have to wait in a ridiculously long line, but it was well worth it.
Jacque's Review:

I can't say that I have read anything quite like this before. Every generation there is a set of triplet queens born on a small island. Each of the girls has a special magical ability, which must be used when the girls come of age to defeat her sisters and inherit the throne. The poisoners have been in control of the throne for several generations, but the elemental queen, Mirabella, has a distinct advantage this generation. The poison and naturalist queens appear to have no magical ability while Mirabella is perhaps the strongest elemental in history.

Katharine has been training her body to withstand the effects of poison for years with little to no avail. The same can be said for the naturalist queen, Arsinoe, who tried to flee the island in an attempt to save her life prior to the start of the book. Her best friend is one of the strongest naturalists in recent memory while she has no ability. She even turns to forbidden magic, which she feels is better than having no magic at all. At least she will have something to rely on to defend herself.

The sisters grew up together, but were separated at a young age. They still have fond memories of each other, so it is going to be extremely difficult for them to kill one another. This seems to be a much bigger problem than it has ever been in the past, so the leaders begin to plot ways to get around this challenge. This reminded me a bit of the Hunger Games with the fight to the death orchestrated by the Capital.. None of the girls wants to complete, but they know there can only be one winner, so they must kill or be killed.

As the year long battle is about to begin there is a major revelation that could greatly impact the outcome. I don't want to spoil it, but it definitely explains the discrepancy in their abilities. I don't really have a favorite at this point, but I was rooting for Katharine and Arsinoe since they were at a major disadvantage.

The second book in the series, One Dark Throne, is scheduled to be released September 19, 2017. I have already added it to my TBR and can't wait to find out what will happen next.