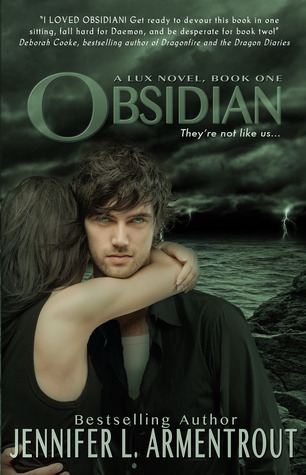 Jacque's Review:
I bought a copy of Obsidian at the 2013 RT convention to have signed. Mary and a few others told me I had to read it, yet it has remained on my TBR shelf ever since. In fact, I didn't have a clue what it was about until I started reading it a couple of weeks ago.
Katy Swartz is originally from Florida. After the death of her father her mother decides to relocate to West Virginia for a change of scenery. Jennifer Armentrout is from WV, so she is clearly giving her home state a little love, but I can't imagine how that would impact a high school senior. In addition, her mother chose to live in a REALLY small town filled with "strange" people.
Katy is a book blogger, so it was funny to hear her geek out about her In My Mailbox or Waiting on Wednesday posts. A shipment of books would arrive and it was like Christmas in July. She was also worried about getting a new library card, which I'm sure would be at the top of my to-do list if I moved, so Katy should definitely appeal to most readers.
Living next door to Katy are the Black twins, Dee and Daemon. They will be starting their senior year as well and Katy quickly becomes best friends with Dee. On the other hand, her relationship with Daemon is very hot and cold to say the least. He can be sweet one minute and a complete ____ the next. Katy can't figure out why Daemon and his friends think there is something inferior about "her kind" until she begins to notice some unusual things. Daemon and Dee seem to move faster than humanly possible at times. Daemon can swim under water WAY longer than he should be able to. After witnessing several more dramatic events, she take the news that they are aliens pretty well. The fact that there are beings known as Arum trying to kill her Luxen friends, and now her due to her association with them, is a different matter.
Overall, I thought this was an action packed and tension filled start to the series. Once we got past the whole "you aren't one of us" issue and the truth was out there, the story really began to flow. Katy must guard their secret with her life and she is forced to do so on more than one occasion.
The only issue I had with the book was the word choice. I'm sure everyone has seen the posts about why moist is the worst word ever and shouldn't be used. She didn't use that word, but there was another cringe worthy word used on at least two occasions that needed to be removed. If you have read the book and would like to guess the word I'm referring to, please leave a comment and I will be sure to reply. Maybe it is just me, but I'm guessing not...
There are 5 books in the series, so it is a bit of an undertaking if you want to start this series. I can tell you that the ending of this book left me wanting to jump right into the next book, but I'm committed to reading the books on my spring TBR list first. I will be sure to include Onyx on my Summer TBR list!
Oh, hey! Remember that time I met Daemon Black at Apollycon?!
Flo's Review
Literally, multiple friends have been bugging me to read this series, basically since this first book published in 2012. I even own the entire series already, in the Lux volumes and on audiobook. Several times it made it close to the top of the TBR pile, but it just never pushed through. Until now.
Like Jacque said, I love that Katy is a book blogger. I was totally understanding her activities and feelings towards her book blog. This book definitely had a Twilight feel to it: "we're obviously attracted to each other, but you're fighting it -- why?" and "what are you? I don't think you're human...?" Luckily, I do love Twilight so I was all on board. I also bring up this similarity because I think this series has the potential to get better as we get more into the story. Obsidian had to cover a lot of the exposition, so from here on out I'm looking forward to seeing the situations these characters are put into and how they'll react. I don't know that I'll be able to jump into Onyx right away, but I do think I'd like to slowly make my way through this series.