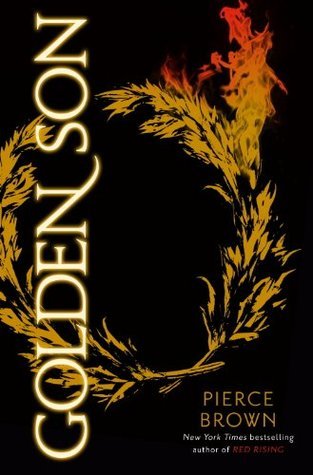 Book Summary
With shades of The Hunger Games, Ender's Game, and Game of Thrones, debut author Pierce Brown's genre-defying epic Red Rising hit the ground running and wasted no time becoming a sensation.

Golden Son continues the stunning saga of Darrow, a rebel forged by tragedy, battling to lead his oppressed people to freedom from the overlords of a brutal elitist future built on lies. Now fully embedded among the Gold ruling class, Darrow continues his work to bring down Society from within.

A life-or-death tale of vengeance with an unforgettable hero at its heart,Golden Son guarantees Pierce Brown's continuing status as one of fiction's most exciting new voices.
Flo's Review
Wow. What an interesting journey with this book. I literally had quite a roller coaster experience reading it. While I loved the concept of Red Rising, the first book in the trilogy, it took me awhile to get through it. I set it aside for several months, and then only picked it back up when I got Golden Son.
The beginning of the book held my interest, but then toward the end of Part I, it was losing me again. I once again put a Pierce Brown book down and went on to other things. But I was determined to push through, so I picked it back up and read on. Then two words at the end of Part I had me excited to get to Part II. I was back to being invested in the story for awhile, but then it once again started to lose me. It went to the side again, but once again I came back. By the end of Part III and into Part IV, I was flying. And then there's the end. But we'll get to that in minute.
What I liked most about this book is the themes of trust and redemption that run through it. Darrow, though born a Red, is a natural leader. It is in his blood. But he is a leader because he makes friends, not followers. And his friends will follow him willingly and die for him. Time and time again Darrow opts to trust his friends and give them the benefit of the doubt. And the majority of the time this works. He realizes that the Golds will break because they are rigid and power hungry and always looking out for #1 above all. And the Reds can rise because they believe in brotherhood and community. I jotted down the phrase "high virtue, low color." Darrow's problems come when he goes out on a limb and trusts too much, hoping that all his friends can be human beyond just being Gold.
Darrow is also bold in his strategy and that is why is so successful as a leader. He is smart -- he does his homework. He is often able to anticipate traps and what others who seek to harm him may be thinking. He uses that to come into a situation with the upper hand.
You may be wondering why I had such trouble getting through this book. Through my experiences with sci fi, I can say that I just don't think I'm a sci fi fan. There are exceptions, of course: the Across the Universe trilogy by Beth Revis and These Broken Stars by Amie Kaufman and Meagan Spooner are two that come to mind immediately. But with this book, for example, there was a lot going on. Different types of people, different planets...I was often lost in all the detail. Secondly, I appreciate a good battle scene...but not a long one. I'm the same way with movies. (Don't get me started on the final Hobbit movie!) So many scenes in this book are fight scenes. And while I can appreciate that they are well done and that the characters are kicking @$$, I tend to just skim over them after awhile.
And now we can talk about the end. I won't spoil it, but I will say this. Up until then, based on my roller coaster of a journey with this book, I was looking at a 2 or 3 star rating. The ending brought it up to 4. I almost gave it 5 anyway, but I couldn't bring myself to rate it so highly based on my experience. But I almost did. The ending overshadowed everything for me. It was the kind of ending a booknerd lives for -- it's waaay past my bedtime, but I can't bloodydamn put the book down! Then, once I've finished it, I immediately had to seek out a friend to freak out with. The ending made the book for me.
Morning Star is the third and final book in the trilogy and it's not supposed to come out until 2016. How am I supposed to wait?!?!?