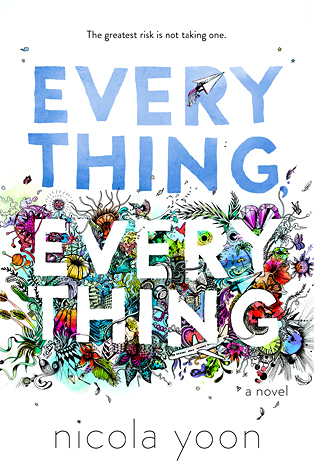 Book Summary
My disease is as rare as it is famous. Basically, I'm allergic to the world. I don't leave my house, have not left my house in seventeen years. The only people I ever see are my mom and my nurse, Carla.
But then one day, a moving truck arrives next door. I look out my window, and I see him. He's tall, lean and wearing all black—black T-shirt, black jeans, black sneakers, and a black knit cap that covers his hair completely. He catches me looking and stares at me. I stare right back. His name is Olly.
Maybe we can't predict the future, but we can predict some things. For example, I am certainly going to fall in love with Olly. It's almost certainly going to be a disaster.
Flo's Review
What I loved about this book? Everything, Everything. Let's start with the cover. Look at the pretty up there!!
I was lucky enough to get this ARC at BookCon, where I also had the chance to meet author Nicola Yoon. It was quick, but I told her that my friend insisted I get her book because she thought it was really good. Nicola was really sweet and grateful.
Everything, Everything was just a fun book to read. The pictures, IMs, and short chapters made it easy to just breeze through in no time. I finished this book in a day. I have been coming off of a few books that just haven't hit home with me, so reading Everything, Everything to me was like what being Outside felt like to Maddy. (So many thoughts, stimuli, emotions!)
Maddy is smart -- she does very well in her classes and is very well read. What a coincidence that we just gave away a copy of The Little Prince on the blog because it's such a great story, and it ended up being a big part of this one. The way Nicola integrated the spoiler alerts for books that perfectly fit along with what was going on in Maddy's life at each point was so great. The lessons in the story about really living your life and what that means, about taking risks, and more, were conveyed in a simple, inspirational fashion. They were mentioned and acted upon, but they weren't pounded on the reader like, "This is the Very Important Lesson of this story." Like I said, I closed the book with a smile on my face because it was fun to read. And it's a book about all of these deep things, but not put forward in just a heavy fashion. And the reader can still see and reflect on these things.
Most of all, I loved the love. I loved the way Maddy loved. She loved her Mom. She loved Carla. She loved Olly. And that is Everything, Everything.
Thanks Penguin Random House!