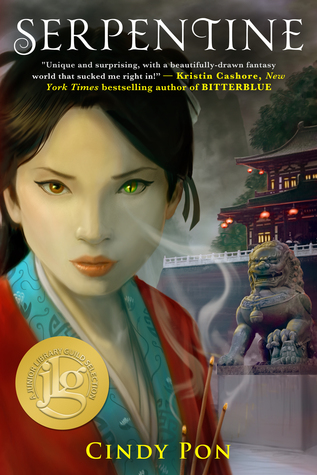 Book Summary
SERPENTINE is a sweeping fantasy set in the ancient Kingdom of Xia and inspired by the rich history of Chinese mythology.

Lush with details from Chinese folklore, SERPENTINE tells the coming of age story of Skybright, a young girl who worries about her growing otherness. As she turns sixteen, Skybright notices troubling changes. By day, she is a companion and handmaid to the youngest daughter of a very wealthy family. But nighttime brings with it a darkness that not even daybreak can quell.

When her plight can no longer be denied, Skybright learns that despite a dark destiny, she must struggle to retain her sense of self – even as she falls in love for the first time.
Flo's Review
So I first heard about this book around BookCon. I saw that Cindy Pon was going to be signing ARCs there and I put it on my "must get" list. Unfortunately, I don't know what happened, but my first day BookCon groove wasn't at 100%. I remember walking around the hall, checking the time, and realizing that Cindy's signing time had passed. I raced to the Month9Books booth to see if they had any copies left, but they were out :(
Luckily, I was able to get a hold of the book, and I'm glad I did. I struggled a bit in the beginning as Skybright's situation left me with crazy mental images, but the further I got into the book, the more engrossed I became. I loved, loved, loved Kai Sen. I think he's going to get a spot on my Fictional Boyfriends list. He was open and honest with Skybright, and he went out of his way to find her and protect her.
I also loved the friendship between Skybright and Zhen Ni. Both of them were very protective of each other, and I like that their relationship carried as much weight in this story as the one between Skybright and Kai Sen. I'm intrigued by Stone...I can't get a good read on him and his true nature? I have a feeling we'll be learning a lot more about him in Book #2 -- hopefully we will.
Serpentine
was a unique and fast-paced read. I found I was often doing that thing where I read way too fast because I am anxious for the character and I have to know what's going to happen, like right away! If you're in the mood for something different that will make you emotionally invested in the characters and eagerly turning the pages, then I would recommend this one.
Thanks so much to Month9Books for providing me an advance reader's copy in exchange for my honest review.