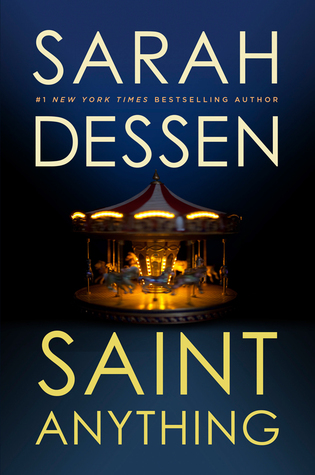 Flo's Review
I went into the library a couple of weeks ago to return a book and saw this audiobook on display. I grabbed it on a whim. As I was driving home listening to it, I thought, "I don't know if I can do 12 + hours with this narrator. She talks so slow." Let me tell you, today as I was driving around everywhere and not even caring because it meant I could listen to more of the story, it didn't even seem to me that she was speaking slowly. Usually my audiobook limit is about 7 CDs, 8 hours. This one was 10 CDs and almost 13 hours. But I was so engaged in the story that it didn't feel long at all.
Sydney Stanford is used to being invisible. Her brother, Peyton, has gotten in scores of trouble with the law, which culminated in him hitting and paralyzing a teenage boy while driving drunk. He is now in prison for it. Sydney's mom is a planner and likes to spend her time organizing things around Peyton. Her Dad works a lot and usually just goes along with what his wife says. Sydney spends her days obsessing over the fake version of The Real World and being creeped out by her brother's best friend Ames.
But this book is about Sydney's journey from invisibility to visibility; from being looked over to looking out for others; from sitting back and taking it to standing up and taking action. She starts by switching schools from the fancy prep school she and her brother went to to the larger Jackson High. Here she fast becomes friends with the Chatham family.
As a writer, this story inspires me and scares me. I am writing a YA contemp.
This
is the level I am striving for. Sarah Dessen's characters are not just characters. By the end of the story, I felt like I intimately knew this family and their friends. Like I could walk out of the door of my apartment and see Laila, Mac, Eric and Irv hanging out and I would already feel like part of the fold. Sydney's mom made me so mad and Ames really creeped me out. I developed legit feelings for these people!
I've confessed in the past
having trouble with Sarah Dessen's flashbacks
. Saint Anything is not without them. But they didn't really annoy me here. Maybe because I was expecting them? Or maybe because the flashbacks were usually short snippets and not lengthy scenes?
Saint Anything also takes a couple of different-than-average viewpoints, which I like. First, with the saints. The saints are talked about a bit and play a decent role in the weaving of the story. Yet not in a full-on religious way. I think no matter what your religious beliefs, it wouldn't be hard for you to get on board with the idea of saints and their roles in the lives of some of these characters. Secondly, we are seeing the fully human side of the perpetrator of the crime. We are all familiar with the idea that the victim is not in isolation -- whatever happened to him or her affects his/her family and friends. But this looks at the family and friends of the drunk driver. They are deeply affected, too. Sydney definitely is.
Mac Chatham. <3
I just finished this tonight and am already in full book hangover mode! I kind of what to go ahead and pick up another Sarah Dessen book. Which one do you recommend?