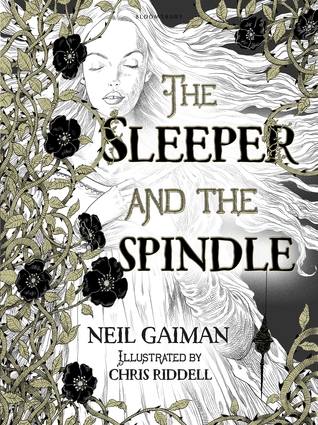 Book Summary
A thrillingly reimagined fairy tale from the truly magical combination of author Neil Gaiman and illustrator Chris Riddell – weaving together a sort-of Snow White and an almost Sleeping Beauty with a thread of dark magic, which will hold readers spellbound from start to finish.
On the eve of her wedding, a young queen sets out to rescue a princess from an enchantment. She casts aside her fine wedding clothes, takes her chain mail and her sword and follows her brave dwarf retainers into the tunnels under the mountain towards the sleeping kingdom. This queen will decide her own future – and the princess who needs rescuing is not quite what she seems. Twisting together the familiar and the new, this perfectly delicious, captivating and darkly funny tale shows its creators at the peak of their talents.
Lavishly produced, packed with glorious Chris Riddell illustrations enhanced with metallic ink, this is a spectacular and magical gift.
Flo's Review
So...I had no idea what I was getting into when I opened this book. Honestly, I just picked it up because it was pretty. And because I've been wanting to read a Neil Gaiman book for awhile. But if we're being honest? Because it's pretty. Don't mind if I intersperse random book images throughout this review to drive my point home.
The illustrator of the book is Chris Riddell.
What an interesting take on a fairy tale! It was kinda dark. (I mean, there are skulls on the queen's blanket in that picture up there, let's be real.) But not really dark. The tone of Neil's writing was to the point, but with a little element of snark. Gaiman described fanciful fantastic things in a simple, straight manner. The descriptions were clean -- not flowery. This was interesting because usually fairy tale lands are described in a flowy, full-of-wonder, full-of-awe tone.
But here you had lines like, "They had names, the dwarfs, but human beings were not permitted to know what they were, such things being sacred. The queen had a name, but nowadays people only ever called her Your Majesty. Names are in short supply in this telling." I love it! Definitely chuckled at that.
Then there's the famous element that has been reported about quite a bit (that I've noticed on my post-read Google searching) -- Snow White's kiss is the one to wake Sleeping Beauty.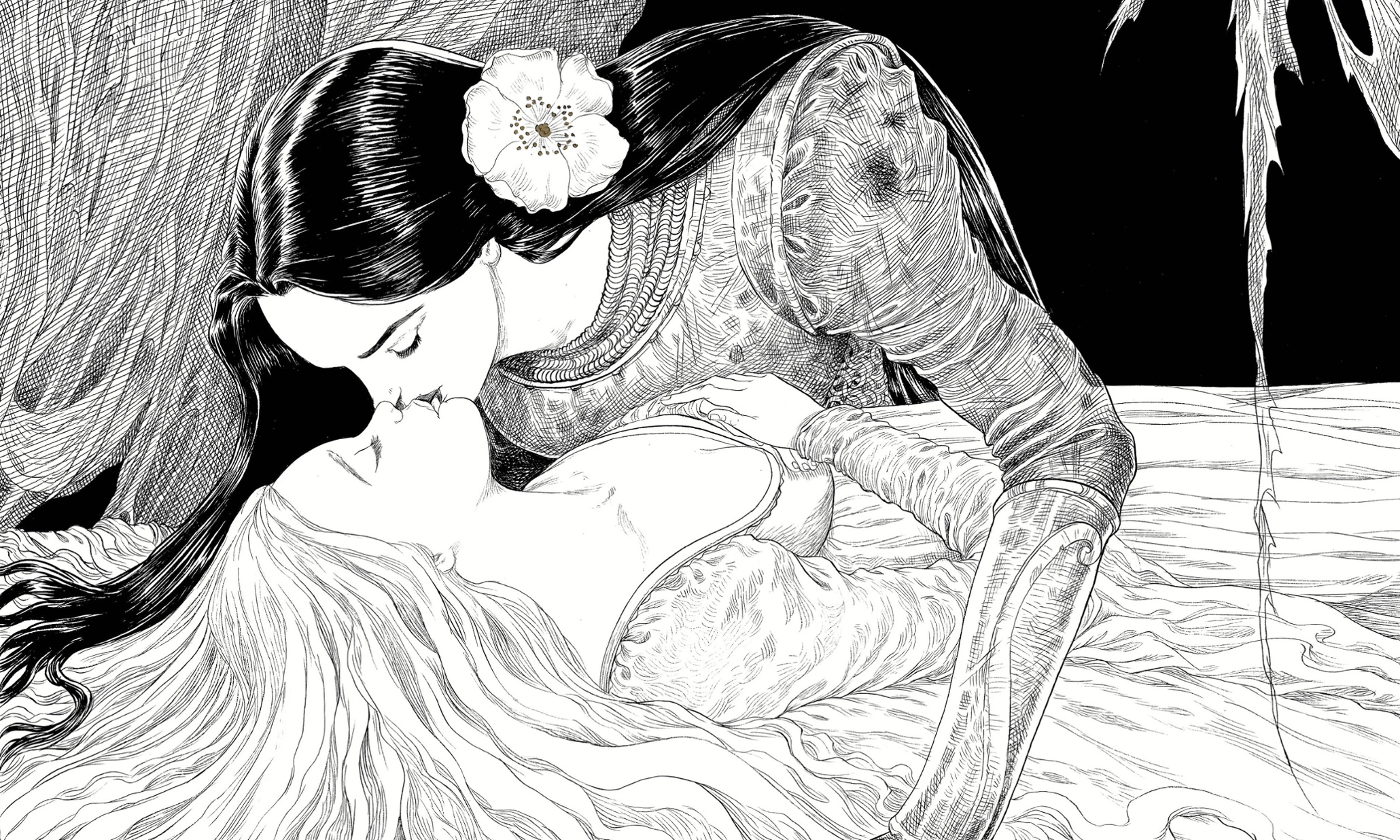 Neil Gaiman says in this article in the Telegraph: "
You don't need princes to save you. I don't have a lot of patience for stories in which women are rescued by men." (In the same article, he describes
The Sleeper and the Spindle
by saying, "
I feel like some kind of alchemist. I have to go to the cupboard and take one ounce of Snow White and two ounces of Sleeping Beauty, and heat the Sleeping Beauty and froth the Snow White and mix them together: it's kind of like fusion cuisine. It tastes like both of them but it's actually a new dish.")
This is what happened to the last dude who tried to rescue the sleeping princess.
True to form in surprising me, the end of this story was not at all what I was expecting! Neil Gaiman throws in an interesting and creative twist. All in all, this is definitely worth your time. It's a unique and surprising story, and the artwork is awesome.