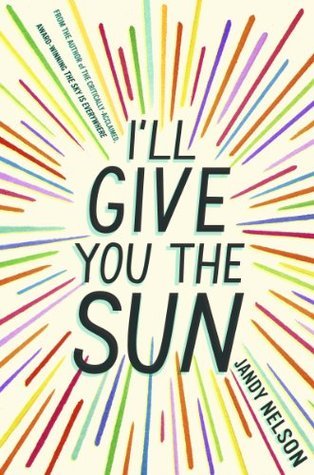 Book Summary
Jude and her twin brother, Noah, are incredibly close. At thirteen, isolated Noah draws constantly and is falling in love with the charismatic boy next door, while daredevil Jude cliff-dives and wears red-red lipstick and does the talking for both of them. But three years later, Jude and Noah are barely speaking. Something has happened to wreck the twins in different and dramatic ways . . . until Jude meets a cocky, broken, beautiful boy, as well as someone else—an even more unpredictable new force in her life. The early years are Noah's story to tell. The later years are Jude's. What the twins don't realize is that they each have only half the story, and if they could just find their way back to one another, they'd have a chance to remake their world.
Flo's Review
When I first started blogging many ears ago, I borrowed the concept of breaking up with a book that I could not finish. I like the analogy. Me and my current read are both giving and receiving to/from each other, but sometimes we cannot synchronize and we have to go our separate ways. That happened with I'll Give You the Sun and I HAVE NO IDEA WHY.
I loved, loved, loved The Sky is Everywhere. And I heard from multiple people that I'll Give You the Sun was even better. I couldn't wait to dive in. And honestly? This book has everything going for it. First, the cover is beautiful! Look at how pretty and colorful it is! #coverlove. I listened to the audiobook and the narrators were awesome Jesse Bernstein and Julia Whelan, both who I've listened to perform audiobooks before. The writing is incredible. It is so unique and full of life. Jandy Nelson paints with her words, filling up a while palette with every single hue and direction under the sun.
But I was struggling. I told myself to give it to 100 pages, which is my normal cut off. (If a book hasn't grabbed me by then -- NEXT!) I made it to about 120-something with a little extra push on my part. And, honestly, I'm not completely sure why. Could it be because it was so overhyped for me that my expectations were unrealistic? Maybe. Could it be because I was listening to the audiobook, and sometimes that slows down the story? Perhaps. Or maybe the twins were just so eccentric that I felt I couldn't relate to either one of them? Could be.
I think, however, we just didn't connect. This is what scares me as a writer, but is the honest truth of any relationship. Have you ever dated that boy who was "good on paper"? He had all the qualities on your checklist of a perfect mate, but there just wasn't any attraction, any spark between you two? I'm guessing that's what happened here. Jandy Nelson did everything right, but I just didn't connect with I'll Give You the Sun. It makes me sad, but it's all a part of life. There are many other books in the sea.