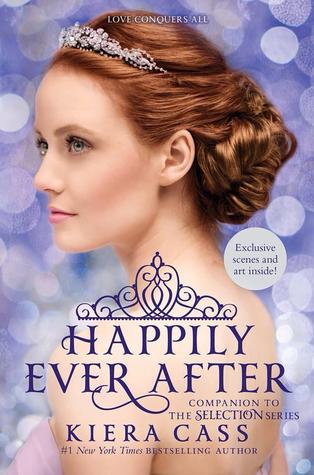 Flo's Review
Happily Ever After
is a collection of novellas from the
Selection
world, as follows. (The hyperlinked ones will take you to our published reviews):
-The Prince (with the two bonus chapters), Maxon's novella
-The Guard, Aspen's novella
-The Queen, Amberly's novella
-The Favorite, Marlee's novella
-Three scenes from Celeste's POV
-Lucy's scene (bonus scene from The One)
-The bonus epilogue
-Where are they now?
-A map
-Various illustrations
My favorite part of
Happily Ever After
was definitely the illustrations! This is such a pretty book! I checked it out from the library, but I think I will need to buy it to add to my collection -- especially if I can get Kiera to sign it. As far as the stories (lol, of yes -- those too!), I definitely loved reading the Epilogue and I really enjoyed The Favorite, which I hadn't read before now. I also enjoyed the Departure scene from Celeste's POV.
Happily Ever After
is a good little dip for fans of the Selection who want to lose themselves in the world again. And, true to the title, it is the perfect completion and goodbye. If you're a fan of the series, I think you will enjoy this collection and should definitely pick it up.