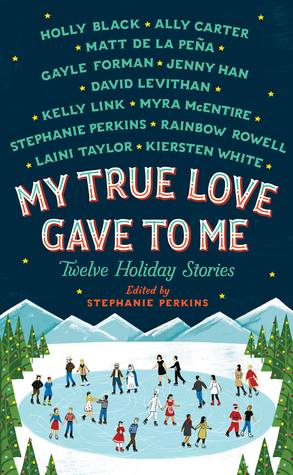 Book Summary
If you love holiday stories, holiday movies, made-for-TV-holiday specials, holiday episodes of your favorite sitcoms and, especially, if you love holiday anthologies, you're going to fall in love with MY TRUE LOVE GAVE TO ME: TWELVE HOLIDAY STORIES by twelve bestselling young adult writers, edited by international bestselling author Stephanie Perkins.
Flo's Review
I was in the library hold queue for this book and literally picked it up on the way to the airport to fly back to my parents' house. I'm really glad I got it! I enjoyed the twelve stories a lot. Some of them had some fantastical elements, and while those were fun, I think I tended to like the straight up contemp stories the best. And now I will try to rank them, starting with my most favoritest. Here goes!
It's a Yuletide Miracle, Charlie Brown
by
Stephanie Perkins
Midnights
by
Rainbow Rowell

Angels in the Snow by Matt de la Peña
Welcome to Christmas, CA
by
Kiersten White
What the Hell Have You Done, Sophie Roth?
by
Gayle Forman
Star of Bethlehem
by
Ally Carter
Beer Buckets and Baby Jesus
by
Myra McEntire


Polaris is Where You'll Find Me by Jenny Han

Krampuslauf by Holly Black

Your Temporary Santa
by
David Levithan

The Girl Who Woke the Dreamer by Laini Taylor
The Lady and the Fox
by
Kelly Link