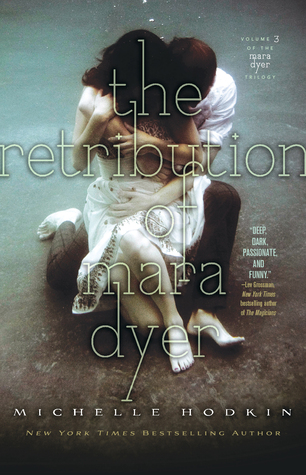 Book Summary
Mara Dyer wants to believe there's more to the lies she's been told.
There is.
She doesn't stop to think about where her quest for the truth might lead.
She should.
She never had to imagine how far she would go for vengeance.
She will now.
Loyalties are betrayed, guilt and innocence tangle, and fate and chance collide in this shocking conclusion to Mara Dyer's story.
Retribution has arrived.
Flo's Review
Michelle and I at the Miami Book Fair in 2014
Honestly, I am not sure what to say about this book. Did I like it? I did. I was listening to the audiobook, but then HAD to know what was going to happen once I got closer to the end, so I abandoned the audio and read the last 100 pages. At the same time, though, I discovered I have a low threshold for ... gross stuff? There were d
efinitely a few scenes that I had to skim over because if I read them (or listened to them) closely, I felt I would be sick imagining them. Sometimes the situations that characters found themselves in seemed a little too coincidental, even though they weren't. (Ahhh...it's hard to do this in a non-spoilery fashion.) This book reminded me a lot of
Allegiant
in that I felt there was a lot of information dump in this volume. We spent the first two books being like, "WHAT is going on???" and just finally got answers here. Thankfully, though, it was not all information dump and there was some good action as well. This book also reminded me a bit of
The Young Elites
because with that book Marie Lu set up to write a story about a villain. Both of these books remind you, and Mara even talks about it toward the end of this one, that sometimes the villain is not all bad, and starts from a place of good intentions. I loved how this ended! I was told what it was going to do by a few people, I think, before I got to read it, but it was still really cool how it played out. I'm curious to hear if Jacque died in her chair when Noah Shaw started speaking words of love en francais?
Jacque's Review
After reading the first two books in the series, this was one of my absolute favorite YA series. We had to wait over two years between the release of the second and third books, so I was beyond anxious for the release. Perhaps my expectations were unrealistic, but this book didn't quite live up to my expectations.
Michelle inserted chapters throughout the book which told the story of Mara's ancestors. This provided a history of the "superpowers" Mara and her friends possess. We also come to understand the motivations behind the research that is being conducted at Horizons, which shed some light on not only the characters' pasts and onset of their conditions, but also their future.
We eventually learn if Jude is "real or not real" and how he is connected to Horizons and Dr. Kells. I wish there could have been a way for Michelle to tell this story without using quite so much graphic violence. I read a lot of adult murder mysteries, so I am not opposed to violence as a whole. I just didn't think it was fitting for this series and specifically not when it was associated with Mara. It didn't bother me in the least when Mara "punished" a character with her powers, but it was a completely different story when she had to defend herself by traditional means.
The biggest disappointment had to be the lack of Noah throughout the story. I don't want to give away any spoilers, but he did not have nearly the presence that he had in the first two books. He is one of my favorite YA characters and is probably the sole reason I loved the first two books as much as I did. Without his presence, it felt like something was missing.
Overall, I felt like the story tied everything together and provided a satisfying ending. While it didn't live up to my 5 star hopes, it was still an entertaining story and a nice conclusion to the series. The last 100 pages that Flo referenced above was the saving grace for me. It probably doesn't take a rocket scientist to determine what must have occurred around this point, but I flew through the last 100 pages. If only the entire book could have been like that I would have given it 5 stars like the previous two. (Yes...Noah had several quotes that were beyond swoon worthy. That is what I probably love about him the most along with his arrogant and confident demeanor.)