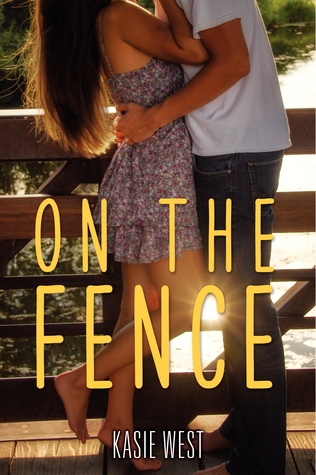 Book Summary
For sixteen-year-old Charlotte Reynolds, aka Charlie, being raised by a single dad and three older brothers has its perks. She can outrun, outscore, and outwit every boy she knows—including her longtime neighbor and honorary fourth brother, Braden. But when it comes to being a girl, Charlie doesn't know the first thing about anything. So when she starts working at chichi boutique to pay off a speeding ticket, she finds herself in a strange new world of makeup, lacy skirts, and BeDazzlers. Even stranger, she's spending time with a boy who has never seen her tear it up in a pickup game.
To cope with the stress of faking her way through this new reality, Charlie seeks late-night refuge in her backyard, talking out her problems with Braden by the fence that separates them. But their Fence Chats can't solve Charlie's biggest problem: she's falling for Braden. Hard. She knows what it means to go for the win, but if spilling her secret means losing him for good, the stakes just got too high.
Flo's Review
What a cute and fun story! I had started this back when I had a copy of the e-book ARC a year ago. I stayed up late one night reading it because it was going to expire off my Nook and I wanted to finish it before that happened. Unfortunately, I couldn't do it, and the book was gone with me only about halfway through. Fast forward to ALA Midwinter this January when I was able to pick up a copy of the book from the Harper booth. I was on a cruise this weekend and needed something fun and light to read while sunning on the cruise ship deck. On the Fence came with me.
Even though it had been several months since I had read it last, I was able to pick up the story right where I had left off. I loved the relationship between Charlie and her brothers. Being a girl who often finds herself hanging out with just guys and has even heard the comment, "You're like one of the guys!" I could relate to Charlie in some way. But what I really enjoyed about this book was Charlie coming into her own. At the beginning she only sees herself as this tomboy type, but as the story develops she taps into her feminine side and has to learn how to meld the two. There is something almost magical about having these secret conversations in the middle of the night, back to back on the fence. It facilitates an openness and honesty that real life cannot. Charlie and Braden may have gotten to the point where they end up by the conclusion of the story, but it would have taken a lot longer without the fence.
This was my first Kasie West book and I'm ready for more! I have The Distance Between Us on my Nook and a physical copy of The Fill-In Boyfriend, and next time I want a fun read, I'll have to reach for one of those.