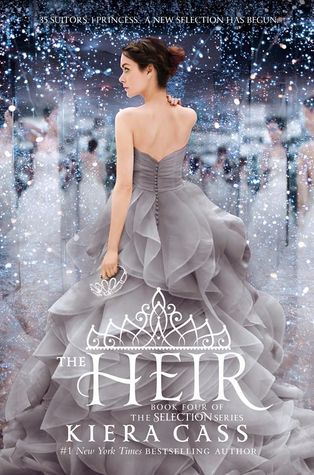 Book Summary
Princess Eadlyn has grown up hearing endless stories about how her mother and father met. Twenty years ago, America Singer entered the Selection and won the heart of Prince Maxon—and they lived happily ever after. Eadlyn has always found their fairy-tale story romantic, but she has no interest in trying to repeat it. If it were up to her, she'd put off marriage for as long as possible.
But a princess's life is never entirely her own, and Eadlyn can't escape her very own Selection—no matter how fervently she protests.
Eadlyn doesn't expect her story to end in romance. But as the competition begins, one entry may just capture Eadlyn's heart, showing her all the possibilities that lie in front of her . . . and proving that finding her own happily ever after isn't as impossible as she's always thought.
Flo's Review
Ahh! So much love for this book. I read the majority of this in one sitting. I couldn't put it down! I kept wanting to know how the next
Report
was going to turn out or what Eadlyn was going to do next. I loved that we got to see so much of Maxon and America and how their life turned out. The ending wasn't a cliffhanger, but left us on a good place for Book 5 to start. If you read and enjoyed the first 3 books in the series, then definitely pick this one up. In fact...
I think
The Heir
is currently my favorite in The Selection Series and I think it's because of the following reasons:
WARNING
: These will be spoilers for this book and the other books in the series from here on out, so proceed with caution after the page break.
1. While the journey of America's Selection was fun and I LOVED Maxon, I always knew she would end up with Maxon. Let me repeat: I love me some Maxon Shreave! But with Eadlyn's story, I honestly don't know who she will end up. I kind of like the whole element of speculation and theorizing and not really knowing.
2. Kind of going off of #1, I didn't really like Aspen either (sorry Aspen/America shippers! Wait, do these people even exist?) So basically any time America was sneaking off with Aspen I was like, "Nooo! What are you doing? Get back to Maxon!" But I really like Eadlyn's boys: Kile, Henri, Erik, Fox...
3. I didn't really like America in
The Elite
and The One. Eadlyn is distant and closed off, but I have a soft spot for her. Maybe because I can see through the walls she's put up at how hard she's trying to do what she thinks she has to. Maybe because I can see the seeds of change that are setting root within her, starting the process of change and growth. Maybe just because while she can be self-centered like America was, she's not whiny like I thought America was.
4. It could just be a simple as me being back in a world that I love, in Ilea. I'm sure that's a big part of it.
5. Henri. Excuse me while I go learn Finnish.