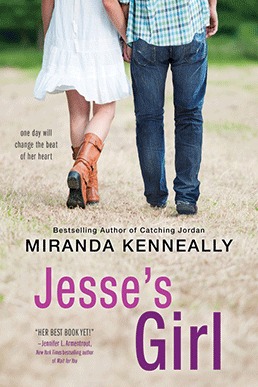 Jacque's Review
This is the first book by Miranda Kenneally that I have read and I absolutely loved it. Jesse is an eighteen year old country music star and Maya is a high school senior who is an aspiring musician. Her musical taste is more towards the 80's, so getting paired with Jesse for a job shadowing assignment by her principal was not nearly as appealing as it would have been for most girls her age.
Jesse and Maya have a very awkward first encounter, but their day of shadowing turned out to be one of the best days of either of their lives. Picture Ferris Bueller's Day Off... Nashville style. Maya realizes how talented Jesse is and begins to really appreciate the musical advice he gives her. For Jesse...Maya is a breath of fresh air that he has desperately been needing. Life in the music business has caused him to isolate himself from everyone except his immediate family and managers. He has been burned so many times by his supposed "friends" that he has a hard time trusting anyone. Maya manages to show him that he can still have a life while maintaining his career.
I haven't given a book 5 stars in a while, but this one was definitely worthy. I was completely engaged and actually finished the entire book during a lengthy travel day with my family. My husband even commented that I needed to get my head out of the book. Once I was finished...I still couldn't put it down. I was flipping back through to reread some of my favorite scenes and quotes.
Flo's Review
Jesse's Girl was on my "Must Get" list at ALA Midwinter earlier this year.
I loved Breathe, Annie, Breathe
and was looking forward to this one. Well, Jacque and I have both agreed that we need to take a trip to Nashville because of
Jesse Scott
. It's been awhile since I've met a boy worthy to add to my Book Boyfriend List, and I feel like Jesse definitely earns a spot. This was a quick and breezy read -- I read the whole thing over the course of a few flights. It also made me want to read Miranda's first book that takes place in the same town,
Catching Jordan
.
I had an interesting relationship with this book. I didn't love Maya because I thought, "Okay, she wants to be a singer, but she doesn't want to sing in front of anybody?! How does that make any kind of sense?!?" But then I realized why I was so perturbed by this: because I am doing the exact same thing. I bet even my fellow Book Nerds don't know that I am currently writing a book. It's a YA contemporary and I'm in love with my main characters. It's about halfway done right now. But I don't really talk about it, and no one else has even read parts of it. Maybe I need Jesse Scott to come to my house and threaten to fail me if I don't finish it and give it to my friends to get their feedback. Come to think of it, that's not a bad idea...