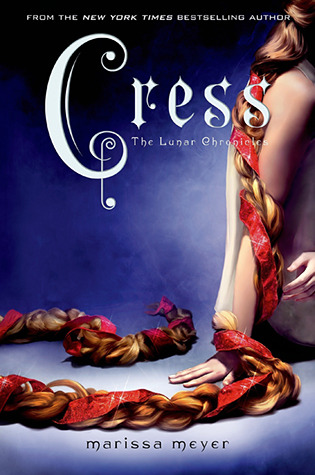 Book Summary
In this third book in the Lunar Chronicles, Cinder and Captain Thorne are fugitives on the run, now with Scarlet and Wolf in tow. Together, they're plotting to overthrow Queen Levana and her army.
Their best hope lies with Cress, a girl imprisoned on a satellite since childhood who's only ever had her netscreens as company. All that screen time has made Cress an excellent hacker. Unfortunately, she's just received orders from Levana to track down Cinder and her handsome accomplice.
When a daring rescue of Cress goes awry, the group is separated. Cress finally has her freedom, but it comes at a high price. Meanwhile, Queen Levana will let nothing prevent her marriage to Emperor Kai. Cress, Scarlet, and Cinder may not have signed up to save the world, but they may be the only hope the world has.
Flo's Review
So, I enjoyed Cinder. I liked Scarlet, too, though I thought it was a little intense. But, you guys, I LOVED CRESS. I loved it! Starting with Cress herself: I love that she is so smart and so creative. At the beginning of the novel she sees herself as a damsel in distress who believes in fairy tale (ha! ha! There's some irony, for ya ;-) romance and happily ever. But when she is thrust -- literally -- in a new world she is strong and resolved. She stubbornly sees the good in people. I love that she tells herself stories, like, "I am an adventurer!" to give herself courage. This leads me to Thorne.
Thorne! I can't with this guy! He is literally a "character." He always made me laugh and shake my head and, legit, I describe him to others by saying, " I can't with him!" It was nice to get into his head a bit in this book and I really liked the hints of what we saw toward the end. I am looking forward to seeing how his and Cress' story develops in Winter.
Those two were the stand out characters for me. As for plot, I love how Marissa links the story so well across the four books. Things that were just little nuggets dropped into the previous books get fleshed out in later books in the series and the connectivity blows me away every time. Finally, I have to give props to the audiobook narrator Rebecca Soler. She is so good that at times it is quite hard to believe that it is the same person voicing all the parts.
So now I'm up to Winter. I'm a bit intimidated by the whole over 800 pages and approximately 22 hours of audio thing. But of course I'm going to dive in! Thanks to The Book Addict's Guide for hosting the #TLCReadAlong and getting me into this series!