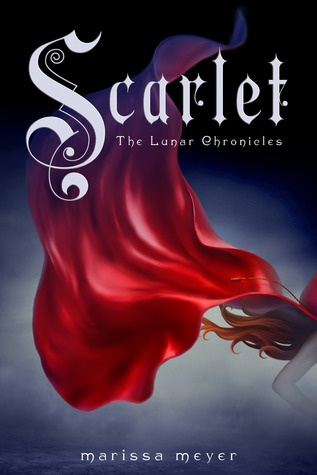 Book Summary
Cinder, the cyborg mechanic, returns in the second thrilling installment of the bestselling Lunar Chronicles. She's trying to break out of prison--even though if she succeeds, she'll be the Commonwealth's most wanted fugitive.
Halfway around the world, Scarlet Benoit's grandmother is missing. It turns out there are many things Scarlet doesn't know about her grandmother or the grave danger she has lived in her whole life. When Scarlet encounters Wolf, a street fighter who may have information as to her grandmother's whereabouts, she is loath to trust this stranger, but is inexplicably drawn to him, and he to her. As Scarlet and Wolf unravel one mystery, they encounter another when they meet Cinder. Now, all of them must stay one step ahead of the vicious Lunar Queen Levana, who will do anything for the handsome Prince Kai to become her husband, her king, her prisoner.
Flo's Review
Posting this now, because for some reason I reviewing it on Goodreads, but not here:
One word for this book: intense. Whoa, kids! I had to let myself decompress before writing this review. Following the theme of the series, Marissa Meyer takes a fairy tale and makes it part of this story she is telling. Scarlet is the story of Little Red Riding Hood. Scarlet is a feisty redhead who usually sports a red hoodie. When her grandmother goes missing, she will do anything to find her -- and her one lead is a guy named Wolf. Again, the way Marissa translates the fairy tale into this story is just so creative. The Wolves, you guys! Daaang. (I was trying to find another way of saying "intense"!)
Meanwhile, we are still following Cinder and Kai. We have the introduction of a new character -- Thorne. He is amazing. Thorne is so completely ridiculous that he is just a lot of fun to read. Marissa was still able to throw surprises my way, as I can think of at least one BIG thing that happened which I wasn't at all anticipating. The end of the story was quite -- wait for it -- intense, but it ended with an a definite action statement on Cinder's part. So this is what we are going to do. Onward to Cress!