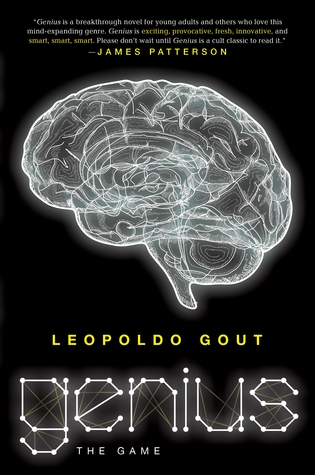 Book Summary
Trust no one. Every camera is an eye. Every microphone an ear. Find me and we can stop him together.

The Game: Get ready for Zero Hour as 200 geniuses from around the world go head to head in a competition hand-devised by India's youngest CEO and visionary.

The Players:
Rex- One of the best programmers/hackers in the world, this 16-year-old Mexican-American is determined to find his missing brother.
Tunde-This 14-year-old self-taught engineering genius has drawn the attention of a ruthless military warlord by single-handedly bringing electricity and internet to his small Nigerian village.
Painted Wolf-One of China's most respected activist bloggers, this mysterious 16-year-old is being pulled into the spotlight by her father's new deal with a corrupt Chinese official.

The Stakes: Are higher than you can imagine. Like life and death. Welcome to the revolution. And get ready to run.
Flo's Review
I was not expecting to enjoy Genius as much as I did. I literally devoured this book in two settings. And the first time I set it down, it was only because it was waaaay past my bedtime on a random weeknight. From the start, this book immediately draws you in. These three kids (and later, their friends and competitors in The Game) are wickedly smart and even though I never fully understood what was going on in their minds, it was still explained well enough to where I could see where they were coming from.
Rex, Tunde, and Painted Wolf are believable friends and I really enjoyed seeing them meet each other for the first time and their interactions throughout the story. Tunde was my absolute favorite! He, in my opinion, had the scariest and highest stakes of the three (at least for a good while), but he was always happy, exhilarated, and in awe. He was a lot of fun to read. Kiran, too, was an interesting character. Just because he is very complex and secretive, and I wanted to go all Painted Wolf on him and know what his real deal was.
The other competitors were well-done, too, because a whole group of child and teenage geniuses is bound to be a quirky bunch. That ending though! I am scared for these three main characters...I have a feeling things are going to get a lot worse for them before they (hopefully!) get better. Mr. Gout, when is the next book coming out?!?! I need it in my life immediately.
Genius: The Game comes out May 3rd and I recommend you add it to your cart at the bookstore or online. (Let's be honest: with all the books publishing May 3rd you'll be there anyway! Might as well snag this one, too!)
5 out of 5 enthusiastic stars!
Thank you to Macmillan for providing me with an advance reader's copy of this book in exchange for my honest review.