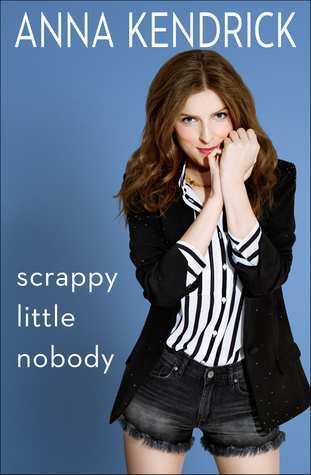 Book Summary
A collection of humorous autobiographical essays by the Academy Award-nominated actress and star of
Up in the Air
and
Pitch Perfect
.
Even before she made a name for herself on the silver screen starring in films like
Pitch Perfect
,
Up in the Air
,
Twilight
, and
Into the Woods
, Anna Kendrick was unusually small, weird, and "10 percent defiant."
At the ripe age of thirteen, she had already resolved to "keep the crazy inside my head where it belonged. Forever. But here's the thing about crazy: It. Wants. Out." In
Scrappy Little Nobody
, she invites readers inside her brain, sharing extraordinary and charmingly ordinary stories with candor and winningly wry observations.
With her razor-sharp wit, Anna recounts the absurdities she's experienced on her way to and from the heart of pop culture as only she can—from her unusual path to the performing arts (Vanilla Ice and baggy neon pants may have played a role) to her double life as a middle-school student who also starred on Broadway to her initial "dating experiments" (including only liking boys who didn't like her back) to reviewing a binder full of butt doubles to her struggle to live like an adult woman instead of a perpetual "man-child."
Enter Anna's world and follow her rise from "scrappy little nobody" to somebody who dazzles on the stage, the screen, and now the page—with an electric, singular voice, at once familiar and surprising, sharp and sweet, funny and serious (well, not that serious).
Flo's Review
There's nothing better than an audiobook that is read by the author, so I was very excited to have the opportunity to listen to Scrappy Little Nobody. I don't follow Anna Kendrick on Twitter, but I've seen a few of her tweets as they've been retweeted here and there, so I was kind of familiar with her style of humor. This was a fun book. Anna is very down to earth - she sounds like the kind of gal you'd want to go to the bar with for happy hour and throw back a few $2 local brews. It was refreshing and eye-opening to hear her experiences with big fame events like the Oscars, press junkets, and Twilight.
Some parts of her life were definitely glossed over, and I'm guessing that was intentional? For example, she was in New York and then suddenly she's in L.A. with no real explanation on how? And then toward the end, there is a whole section on party planning that just straight up felt like, "this book isn't long enough because you're really not that old and we need some filler material." Same with the story about Buccaneer Days. I understand the significance of the experience, but it seemed like a really long story for the little point she makes about it. But these are minor quips. Overall, I really enjoyed hearing about Anna's life and Anna's philosophy on her life. After reading this, I'll continue rooting for her to do awesome things, and maybe win the Oscar this time.
I definitely recommend doing the audio if you can. Anna is expressive when she talks, and I think hearing how she says things placed them differently in my mind that my own reading voice would have done.
Thank you to Simon & Schuster for sending me a copy of this audiobook in exchange for my honest review.