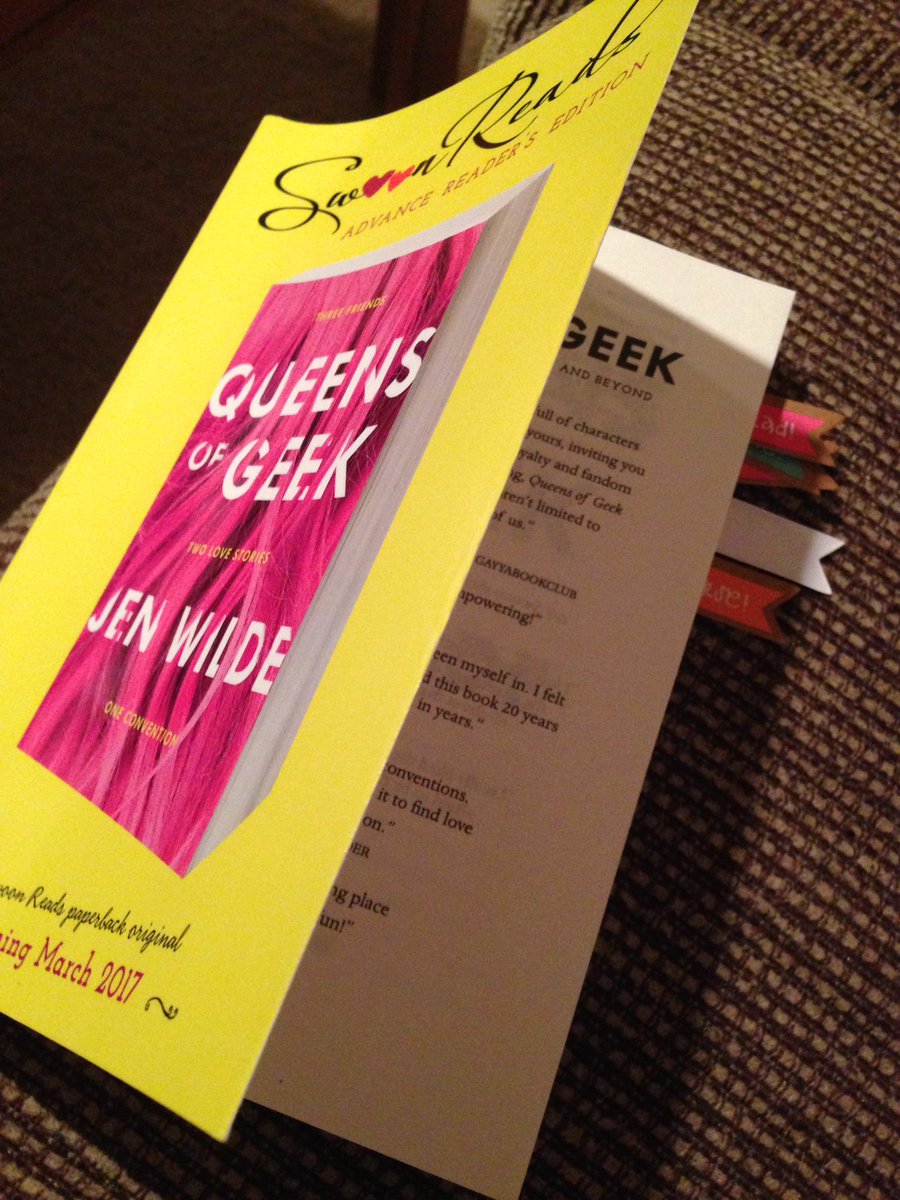 Book Summary
When BFFs Charlie, Taylor and Jamie go to SupaCon, they know it's going to be a blast. What they don't expect is for it to change their lives forever.
Charlie likes to stand out. SupaCon is her chance to show fans she's over her public breakup with co-star, Jason Ryan. When Alyssa Huntington arrives as a surprise guest, it seems Charlie's long-time crush on her isn't as one-sided as she thought.
While Charlie dodges questions about her personal life, Taylor starts asking questions about her own.
Taylor likes to blend in. Her brain is wired differently, making her fear change. And there's one thing in her life she knows will never change: her friendship with Jamie—no matter how much she may secretly want it to. But when she hears about the Queen Firestone SupaFan Contest, she starts to rethink her rules on playing it safe.
Flo's Review
I had a really long and rough week, and this book was exactly what I needed to escape into on Friday night. It is fun, powerful, geeky, sweet, and cool. This, to me, is truly a book that accurately describes an example of what it is to be living in this time. (To quote Hamilton: "Look around, look around, at how lucky we are to be alive right now!") I would stick this book into a time capsule so that the generations after us can unearth it and understand a snapshot of life in 2017.
I loved that I felt so many things Tay felt. Her disappointment over not meeting someone? Pretty sure I've been there. Excitement over the all the cool things on the Con exhibit floor? I've definitely been there. My nephew is autistic and I like to try to understand him and his experience as much as I can. I'm not saying that his and Tay's experiences are exactly the same, but she still gave me a glimpse -- and for that, I am grateful. I also adored this quote:
"Let's say someone is terrified of heights, and in order to get out of the house every day she has to walk across a tightrope from fifty stories up. Everyone would say, 'Oh she's so brave. She faces heights every day.' That's what we do. We walk a tightrope every day. Getting out the door is a tightrope. Going grocery shopping is a tightrope. Things that most people consider to be normal, daily parts of life are the very things we fear and struggle with the most, and yet here we are, moving forward anyways. That's not weak ... We are the brave ones."
Jamie is perfectly understanding, fun, and adorkable. I can see how Tay felt so comfortable around him, and I love that he was there when she needed him, but understood how to give her space when she needed that, too. I also really enjoyed Charlie. She's this new celebrity, but still very down-to-earth and easy to relate to. Her story is one that's so understandable and one I recognize from seeing it around me in people I know: namely, someone who is so strong in herself, yet manages to lose herself in her relationship. The process of recognizing this and coming out of it is a hard one, and I applaud Charlie and everyone who is struggling with that.
I highlighted so many great lines in this! Two of my favorites:
"There needs to be an app that pops up on screens when a nasty tweet is about to sent that says, 'Are you sure you want to say that? It's mean.'"
"We strut into the party like we're Derek Zoolander."
The story had a happy yet realistic ending, and I really appreciate that.
Props to Jen Wilde for her dedication, too:
"To the weirdos, the geeks and the fandom queens. To the outcasts, the misfits and the everything in between. The days of playing the sidekick are over. You are the superheros now. You are my people, and this is for you."
Queens of Geek
comes out March 14, 2017 and I encourage your nerdy, awkward, lovable, powerful self to pick it up! #LoveYourWeird