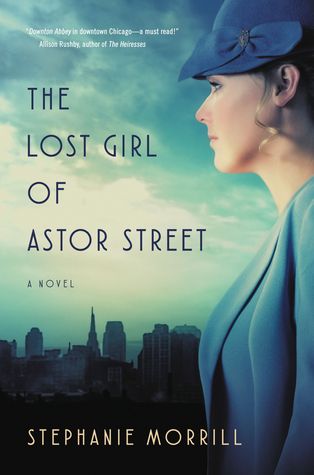 Book Sumary
Lydia has vanished.

Lydia, who's never broken any rules, except falling in love with the wrong boy. Lydia, who's been Piper's best friend since they were children. Lydia, who never even said good-bye.

Convinced the police are looking in all the wrong places, eighteen-year-old Piper Sail begins her own investigation in an attempt to solve the mystery of Lydia's disappearance. With the reluctant help of a handsome young detective, Piper goes searching for answers in the dark underbelly of 1924 Chicago, determined to find Lydia at any cost.

When Piper discovers those answers might stem from the corruption strangling the city—and quite possibly lead back to the doors of her affluent neighborhood—she must decide how deep she's willing to dig, how much she should reveal, and if she's willing to risk her life of privilege for the sake of the truth.

From the glitzy homes of the elite to the mob-run streets of 1920s Chicago, Stephanie Morrill's jazz-age mystery shows just how far a girl will go to save her friend.
Flo's Review
You know how there are some people who are really good at figuring out whodunnit? Well, I'm not one of them. But I find it makes reading mystery novels more enjoyable, because I'm never expecting the outcome. This didn't start off reading like a mystery, which was nice. There was a good amount of world-building, I guess? We spent time getting to know Piper, her family, her personality, and her relationships. Once that was all established, Lydia went missing.
Piper was a fun character to read. She's headstrong - almost annoyingly so - but she is also human. I thought it was nice that we see her plunge into dangerous situations, but we also see her cry a lot. This story could have worked if it was told in modern time, but having it set in the 1920s gave it an even more mysterious and seedy feel.
I enjoyed reading about all the gentlemen, though I feel that the story lines and relationships with the ones that Piper did not end up with were a bit...incomplete? They were both introduced as being really big deals, but then after an intense scene or two just kinda faded away. But I really did enjoy the young gent she did end up with; these two have personalities that complement each other well.
Overall, I read
The Lost Girl of Astor Street
pretty quickly, growing ever more invested toward the end. It's a unique YA mystery, with enjoyable characters and a very well-done historical setting.
Thank you to Blink YA Books for offering me an advance reader's copy in exchange for my honest opinion.