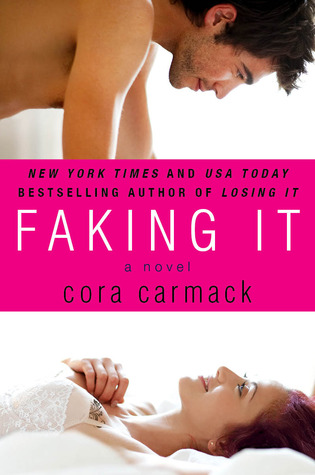 Jacque's Review:
Faking It is the second book in the Losing It series by Cora Carmack. The story picks up where Losing It left off, which is shortly after graduation. Garrick and Bliss moved back to his apartment in Philly and are working at a local theater. Her best friend, Cade, also moved to Philly to attend graduate school.
Cade isn't over the fact that Bliss chose Garrick instead of him, but he knows that he needs to move on with his life. While sitting at a local coffee shop he is approached by Max with a VERY unusual proposition. Her parents made an unexpected visit and want to meet her boyfriend. She can't introduce them to her actual boyfriend because they would never approve, so she needs him to pretend to be her boyfriend for a short while. This should have been an easy role for an actor, but her parents insist that he spend Thanksgiving with them the following day. The situation becomes even more complicated when Cade and Max can't deny the attraction they feel for one another. Are they just acting or is there really something between them?
Both of these characters have difficult pasts that cause them to make very poor decisions throughout the book. They are complete opposites in just about every way, but they complement each other perfectly. They are miserable whenever they are apart, but their fears prevent them from going after what they really want.
The story is told from both Max and Cade's point of view, which worked perfectly in this situation. The reader needs to understand both of their thoughts and feelings to appreciate the decisions they make. The more they discover about each other the more they realize they aren't as different as they appear on the surface.
This was an exceptional addition to the series and I can't wait to read Finding It.