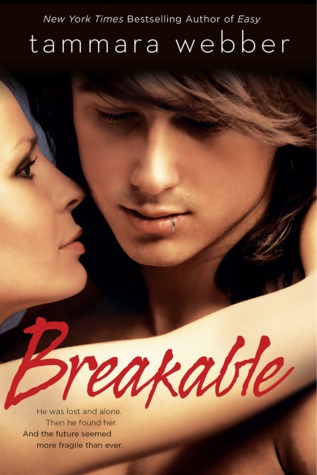 I would like to thank Tammara and her publisher, Penguin Berkley, for the advanced copy of Breakable. I absolutely LOVED Easy and couldn't wait to read Lucas's story.
Breakable is told from Lucas's point-of-view with chapters alternated between the past and present. The "Landon" chapters begin at the time of his Mother's death. We see what life was like for him through high school up until the time he left for college. He was struggling with the loss of his mother and did not receive the support he needed from his father or counselors. We also get to see how his relationship with their long time family friends, the Hellers, developed into the second family he so desperately needed.
The "Lucas" chapters provide his perspective on the events that took place in Easy. He really struggled with the moral dilemma of dating a student in a class he was tutoring, but he just couldn't find a way of telling her. She was the first person he connected with since his mother died and he didn't want to scare her away.
This is an exceptional book and one I would highly recommend to all of my friends. It is New Adult, so the subject matter is more mature than the YA books I usually read. Easy was actually my introduction into the world of NA and I absolutely love it. Cora Carmack is another outstanding NA author that I have discovered. If you have any other recommendations I would love for you to share them with me.
If you haven't read Easy, I suggest that you read it prior to Breakable. The books are stand alones, but knowing Jacqueline's story prior to Lucas's will definitely be to your benefit. They are both exceptional characters and I gave both books 5 out of 5 stars of Goodreads. If you read one of the books you will definitely want to read the other, so start with Easy.
Tammara made a comment that there are a couple of secondary characters she is considering writing about. At the time I had no idea who she could have been referring to. Kennedy and Buck were the only real secondary characters in Easy and they were not good options in my opinion. After reading Breakable, I can now see a few characters with potential. Boyce is my first choice, but Pearl or Melody could be possibilities as well. If you have read the series, please share your thoughts on possible characters you think she could be referring it