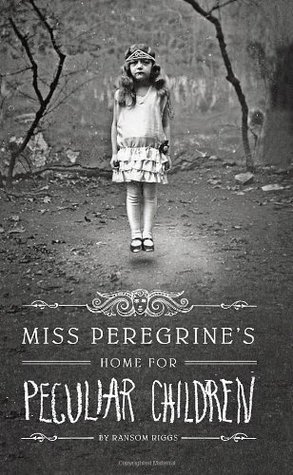 Book Summary
A mysterious island. An abandoned orphanage. A strange collection of curious photographs.
A horrific family tragedy sets sixteen-year-old Jacob journeying to a remote island off the coast of Wales, where he discovers the crumbling ruins of Miss Peregrine's Home for Peculiar Children. As Jacob explores its abandoned bedrooms and hallways, it becomes clear that the children were more than just peculiar. They may have been dangerous. They may have been quarantined on a deserted island for good reason. And somehow—impossible though it seems—they may still be alive.
A spine-tingling fantasy illustrated with haunting vintage photography.
Flo's Review
So I've met Ransom Riggs and we have a cute picture together, but I'm having computer problems and can't find it :( Boo! So this will have to suffice for now:
Anyway, the point is I met Ransom in 2013, so my reading Miss P was long overdue. A couple of things pushed me in the right direction. 1) Quirk Books kindly sent me a review copy and 2) I learned that the movie was filming in Florida.
As you may know, this book was written around several old school pictures, which are featured throughout the book. Because of that, listening to it on audio doesn't seem to make much sense, but it ended up working out for me. The narrator of the audiobook was really fantastic, and I would flip through the book to see the photographs.
I really enjoyed Jacob's voice, and that is what kept me going through the story. The layout (because I can't think of the proper word right now) for the story didn't really sit well with me, but there's no way I can explain why without giving away spoilers. If you've read the book already, and you're curious, you can click here for my spoilery review.
Hollow City, the next book in the series, seems like it is going to be a lot of fun. I'm eagerly awaiting the audiobook from the library so I can jump back into the action with the children.
Jacque's Review:
Jacob is a sixteen year old high school boy that has never really fit in. He is the only person in his family that has a strong relationship with his grandfather, but even he hasn't been able to believe his grandfather's outrageous stories for years. After his grandfather dies, Jacob is determined to uncover what his final words truly meant.
His grandfather grew up during World War 2 and fled to an orphanage off the coast of England for refuge as a boy. He always described it as paradise with all sorts of peculiar children. He showed Jacob pictures of the children, but nobody in their right mind would have believed the photos were real. Bees flying out of a boy's mouth, a girl floating in thin air, another child that is invisible, etc. This is the best part about the book in my opinion. Ransom Riggs used dozens of unaltered old photographs from collectors and wove the story around the images. It was very creative, imaginative, and unlike anything else I have ever read.
The majority of the story is spent on the island as Jacob tries to discover the truth behind his Grandfather's past. I really enjoyed the story, but I would have been disappointed if I read this book when it was first released. I didn't realize until the end of last year (three years after the release of this book) that there was going to be a sequel. The ending is left wide open and there are a million loose ends, which would have been extremely frustrating to the reader that believed this was a stand-alone novel. As it stands today, I am anxious to pick up where this story left off and already requested a copy of Hollow City from the library.
The movie version of this book is currently in production and scheduled to be released in March 2016. I'm not sure how they will incorporate the pictures into the film, but I am excited to see how this story will be depicted on the big screen. The setting will be very unique with the old school and the island with its ever changing weather. There is a lot of action and several "monsters" at the end of the book, which should appeal to a wider audience than just the YA reading population. With the hit or miss success of YA books to movies in recent years, I really hope this movie will get the support it deserves.