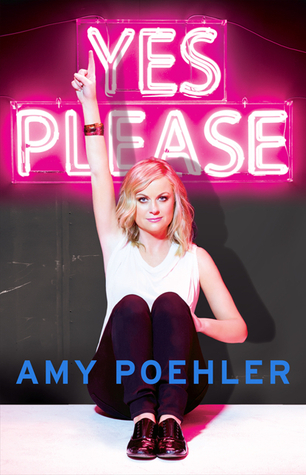 Book Summary
In Amy Poehler's highly anticipated first book,
Yes Please
, she offers up a big juicy stew of personal stories, funny bits on sex and love and friendship and parenthood and real life advice (some useful, some not so much), like when to be funny and when to be serious. Powered by Amy's charming and hilarious, biting yet wise voice,
Yes Please
is a book is full of words to live by.
Flo's Review
I've been itching to read Yes Please for a little bit now, and I'm not completely sure why. I like Amy when I see her, but I don't think I'd describe myself as an Amy fangirl or anything. Maybe it's the cover. It's bright and fun. I was able to snag the audiobook from my library and decided to go that route. I really, really, really enjoyed this book.
The audiobook was so so fun. There was music and guest appearances, and the last chapter was a taped reading that Amy did for an audience. I was wanting to drive around so I could listen to more of it. Yes Please is divided into sections and doesn't go in chronological order of Amy's life. I liked that. One chapter we were listening to her talk about being pregnant and the next we were hearing about her early days learning improv in Chicago. We went from hearing about SNL to hearing about her divorce. I really enjoyed how it wasn't all, "Here is my famous life." A lot of the chapters were dedicated to discussing at length the everyday joys and heartaches that anybody experiences -- first jobs, not getting enough sleep, mission trip. But then, because of the non-chronological order, we would get to hear about really cool celebrity stuff like stories from when she was working on SNL and Parks and Recreation.
Yes Please made me laugh a bit, but mostly it made me smile. I think Amy would be a fun person to go have a beer with and just shoot the breeze.