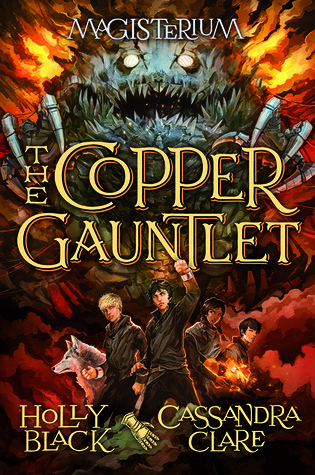 Book Summary
Callum Hunt's summer break isn't like other kids'. His closest companion is a Chaos-ridden wolf, Havoc. His father suspects him of being secretly evil. And, of course, most kids aren't heading back to the magical world of the Magisterium in the fall.
It's not easy for Call . . . and it gets even harder after he checks out his basement and discovers that his dad might be trying to destroy both him and Havoc.
Call escapes to the Magisterium -- but things only intensify there. The Alkahest -- a copper gauntlet capable of separating certain magicians from their magic -- has been stolen. And in their search to discover the culprit, Call and his friends Aaron and Tamara awaken the attention of some very dangerous foes -- and get closer to an even more dangerous truth.
As the mysteries of the Magisterium deepen and widen, bestselling authors Holly Black and Cassandra Clare take readers on an extraordinary journey through one boy's conflict -- and a whole world's fate.
Flo's Review
I loved, loved, loved The Iron Trial. Jacque and I got the ARC for that one at BEA last year and
the Book Nerds decided to make it a read along when it came out
. Once again, I was lucky enough to snag an ARC of the second book in the series, The Copper Gauntlet. And once again, we decided to make it a Book Nerd read along. This second book jumped right back in where the first book left off. As I reading this one, I was reminded just how much happened in the first book. I had to stop and at several points and try to recall who and what certain things were, as they were mentioned again in this book after being introduced in the first. This book starts in the summer after Call's first year at the Magisterium. He is struggling with new information that he learned about himself at the end of his Iron Year, the first year at his magical school. The thing Call is struggling with is huge and serious, but Black and Clare made it fun to read about Call's struggle with how he approaches it. The humor in this book is subtle, but I often found myself chuckling.
This book takes us back to the Magisterium for awhile, and then the young heroes go out on an adventure. It was great to see Tamara, Call, Jasper, and Aaron grow into their magic. Yes, Jasper. He ends up being on the journey with them, adding another line to the commentary that this book brings forth about good versus evil. In other words, are the good characters purely good? Are the evil characters completely evil? The main characters had their disagreements, but at the end of the day they had each other's backs in a heartwarming way.
One small point was integrated into this story and then brought up again at the end of the book, so we have a clear lead into book three. Which I totally cannot wait for. I am loving this series so much! The Copper Gauntlet was one of those books where I'm like, "I'm just gonna read for a few minutes while eating..." and then 45 minutes later I'm done with lunch and still with my nose in the book. I hadn't planned on finishing it today, but I literally couldn't put it down. I cannot wait to continue this story in The Cosmos Blade.
Jacque's Review
I enjoyed the Iron Trial, but I felt like there were a lot of similarities with the Harry Potter series. This book, however, took the series into a direction completely its own. Instead of focusing on Callum's second year at the Magisterium, The Copper Gauntlet follows the characters as they set out on a mission to find a stolen magical object. This object could cause significant harm to two of the characters, but they put their own safety aside for the greater good.
As Flo mentioned, good vs. evil is an important theme. Callum discovered the real reason his father didn't want him to attend the Magistarium at the end of the Iron Trial. He has been processing this information, but he is not willing to share this knowledge with even his closest friends. Instead, he keeps an internal log of all of his good and evil thoughts and actions in the hopes that he can prove his father wrong. His internal dialog is absolutely hilarious and helps to lighten up an otherwise serious situation.
I often struggle with finding books my ten-year-old son will enjoy. He likes the Percy Jackson series, but he was a little overwhelmed by the size of the Harry Potter books once he was further along in the series. This series is fast paced, action packed and should easily capture the attention of young girls and boys alike. It will not intimidate young readers and is a great introduction to fantasy worlds. I will definitely recommend it to him. Hopefully we will be able to read the third book together!!