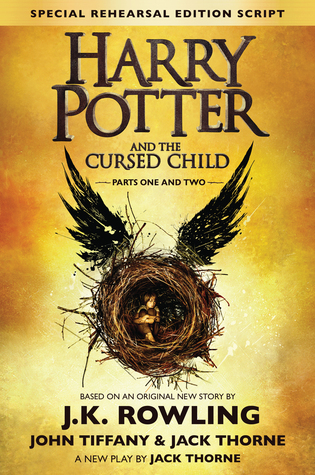 Book Summary
The Eighth Story. Nineteen Years Later.
Based on an original new story by J.K. Rowling, Jack Thorne and John Tiffany, a new play by Jack Thorne,
Harry Potter and the Cursed Child
is the eighth story in the Harry Potter series and the first official Harry Potter story to be presented on stage. The play will receive its world premiere in London's West End on July 30, 2016.
It was always difficult being Harry Potter and it isn't much easier now that he is an overworked employee of the Ministry of Magic, a husband and father of three school-age children.
While Harry grapples with a past that refuses to stay where it belongs, his youngest son Albus must struggle with the weight of a family legacy he never wanted. As past and present fuse ominously, both father and son learn the uncomfortable truth: sometimes, darkness comes from unexpected places.
Flo's Review
By now, I am sure you have heard a lot of opinions about this one. I finished reading it about a week after its release, but I stopped myself from reading other reviews until I wrote this. My initial thought after reading this was...I liked it....but....
I think I really liked it for nostalgic purposes. I liked seeing Harry and the gang, and what their life looks like now. And I did enjoy reading about Albus, Scorpius and Rose -- though I wish we saw more Rose! But what I couldn't really get behind was the storyline. It just wasn't really sitting with me...it felt very fan fictionish.
There could be several reasons for the disconnect. It is a play and not a novel, so it lacked J.K. Rowling's rich details from the first seven books. Also, it is a play, and maybe I need to actually see it. Maybe when it comes to NYC? (A girl can dream!!)
Overall, I would put myself at a solid 'I didn't hate it, but I didn't love it.' I liked it okay. It made me feel sad at parts and smile at parts. I don't regret reading it, and I definitely would love, love, love to see the play. I'm curious to know what you thought! Please let us know in the comments.