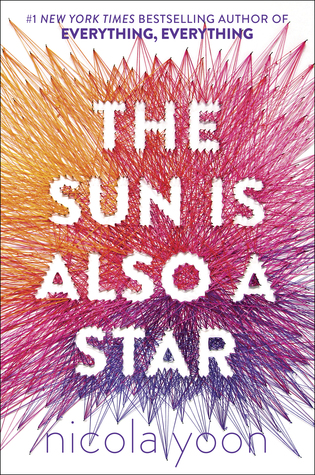 Book Summary
Natasha: I'm a girl who believes in science and facts. Not fate. Not destiny. Or dreams that will never come true. I'm definitely not the kind of girl who meets a cute boy on a crowded New York City street and falls in love with him. Not when my family is twelve hours away from being deported to Jamaica. Falling in love with him won't be my story.
Daniel: I've always been the good son, the good student, living up to my parents' high expectations. Never the poet. Or the dreamer. But when I see her, I forget about all that. Something about Natasha makes me think that fate has something much more extraordinary in store—for both of us.
The Universe: Every moment in our lives has brought us to this single moment. A million futures lie before us. Which one will come true?
Flo's Review
Let's start with the cover love! It's so colorful and pretty!
I simply adored Nicola Yoon's first book
Everything, Everything
. I loved the way she was able to capture so much emotion in beautiful, yet uncomplicated writing. So I was really looking forward to seeing if she would be able to do the same thing in her new book
The Sun Is Also a Star
. The answer is YES! She was, and maybe even more so.
The Sun Is Also a Star
was the book that I couldn't put down – I just kept flipping the pages because I wanted to see how Natasha or how Daniel would react to what was going on. And when I finished it, my heart was full of fuzzy and happy.
There were so many things I loved about this book. I loved that Nicola flipped the stereotypes all over the place – the Korean boy was the dreamy poet and the Black girl was the super smart scientific one. I loved how Natasha and Daniel had these completely different worldviews, but they tested each other and truly considered what the other was saying. I loved the idea of fate, as this is a question I've thought about all the time, and I bet a lot of other people have, too.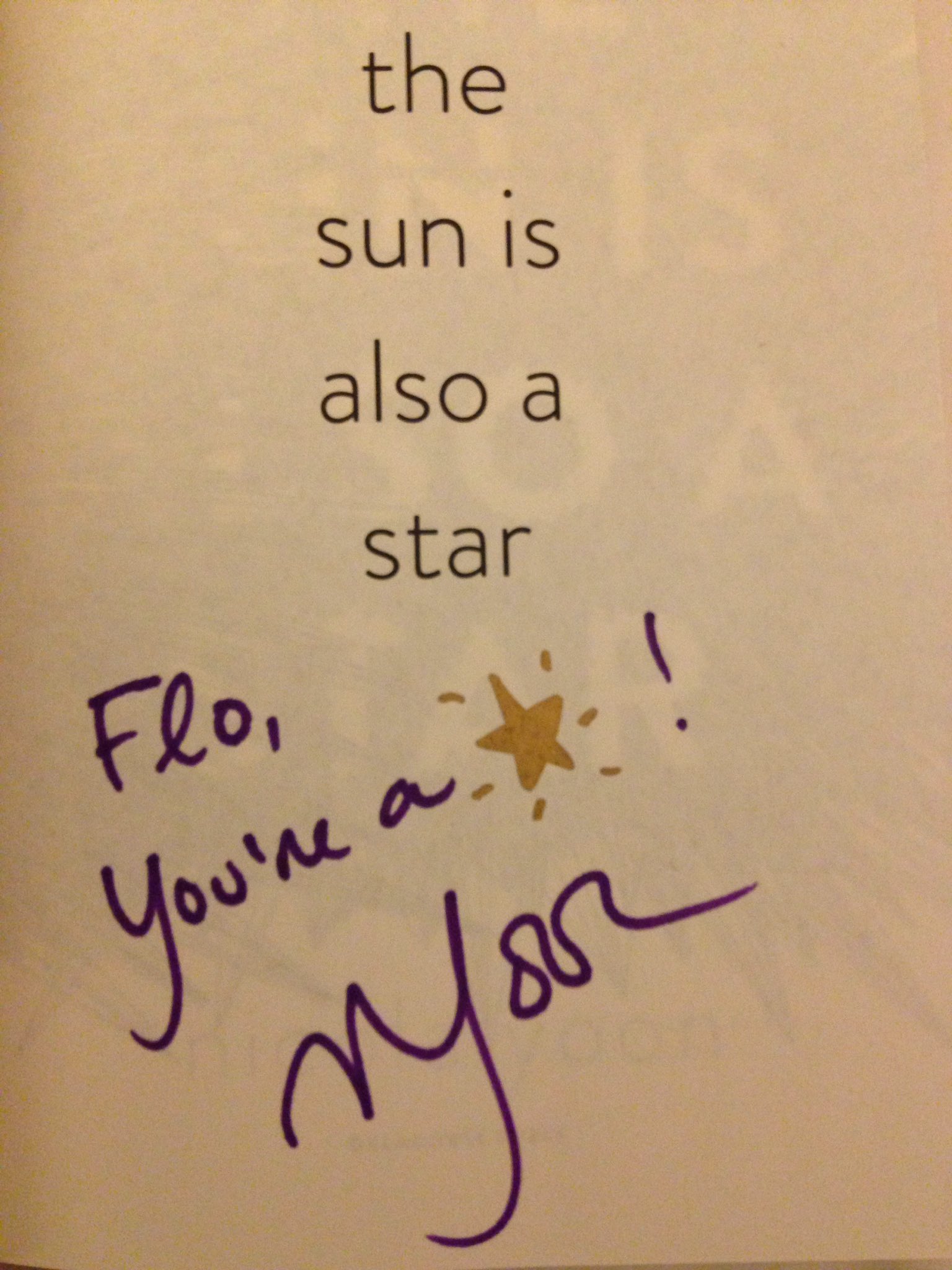 There is a scientific study talked about in the book that I remember reading before, so it was really cool to see that come back up in the story.
And there is, in particular, one great scene where Natasha walks by a couple and sees them one way, and then Daniel walks by the couple and sees them completely differently. The same thing happens with a street musician. This one scene is a perfect illustration of us, of
life
-- how different people see things differently and it shapes the way we act, react, and interact.
I loved how this story was heartbreaking and hopeful all at the same time. I loved that we got to see a little bit of how all our actions count – even the little ones – and how certain plot points intertwined, giving us (humanity) a feeling of connectedness. The theme of loneliness came up, and this book seemed to say, "You are not alone. People notice you. What you do affects others." I actually didn't expect the ending, even though it was a possibility based on what we were read earlier. It was a pleasant surprise, and definitely went along with the theme of how life can pleasantly surprise you.
The Sun is Also a Star
comes out in November and I can't recommend it enough! 5 of out of 5 big sunny stars!!